Crowns in a nutshell
Crowns
Whether your tooth is cracked, misshaped, discoloured or too broken down to be repaired with a filling, a dental crown can be used to restore the tooth.
We carefully prepare the tooth for the crown to be a perfect match and fit, using the technique best suited to your needs. We understand what it is that makes a crown last longer, look better and fit in with the rest of your teeth and mouth as a whole. We use several different dental technicians allowing us to incorporate a multitude of different techniques and materials and produce the best crown for you.
Book Online
Treatment Options for Crowns
There are lots of different types of dental ceramics. Most have very good aesthetic properties, accurately mimicking the appearance of teeth. The crown can be made of just the base ceramic and stained to give detail, or the base ceramic can be covered with porcelain which, in the right technician's hands, can simulate cracks, stains, and variation of colour and translucency within a tooth.
When prepared for and made in the right way, ceramic crowns can be used with great confidence on both front and back teeth.
We use several ceramics, and are confident that with our technicians we can provide the best results for you.
from £985
With a metal base, often a high quality gold alloy, and a detailed porcelain covering, metal ceramic crowns are the traditional crowns of choice - providing strength, durability and good appearance.
The metal base, that cannot be seen, provides the strength. The porcelain covering provides the aesthetics.
from £985
Though gold may not always be considered the best in appearance, it is an excellent material for dental crowns. As gold is so strong, the crown can be made very thin, saving the amount of tooth that needs to be prepared, and so helping the tooth last longer. The fit of gold crowns also means that this type of crown will last longer.
This type of crown is particularly useful where you grind or exert a lot of force on your teeth.

form £985
We do make custom crowns, such as inlaid with diamonds. A rare request. We can source the diamonds or you can provide them for use.
quoted per case/crown
Patient Stories
Crowns to replace front teeth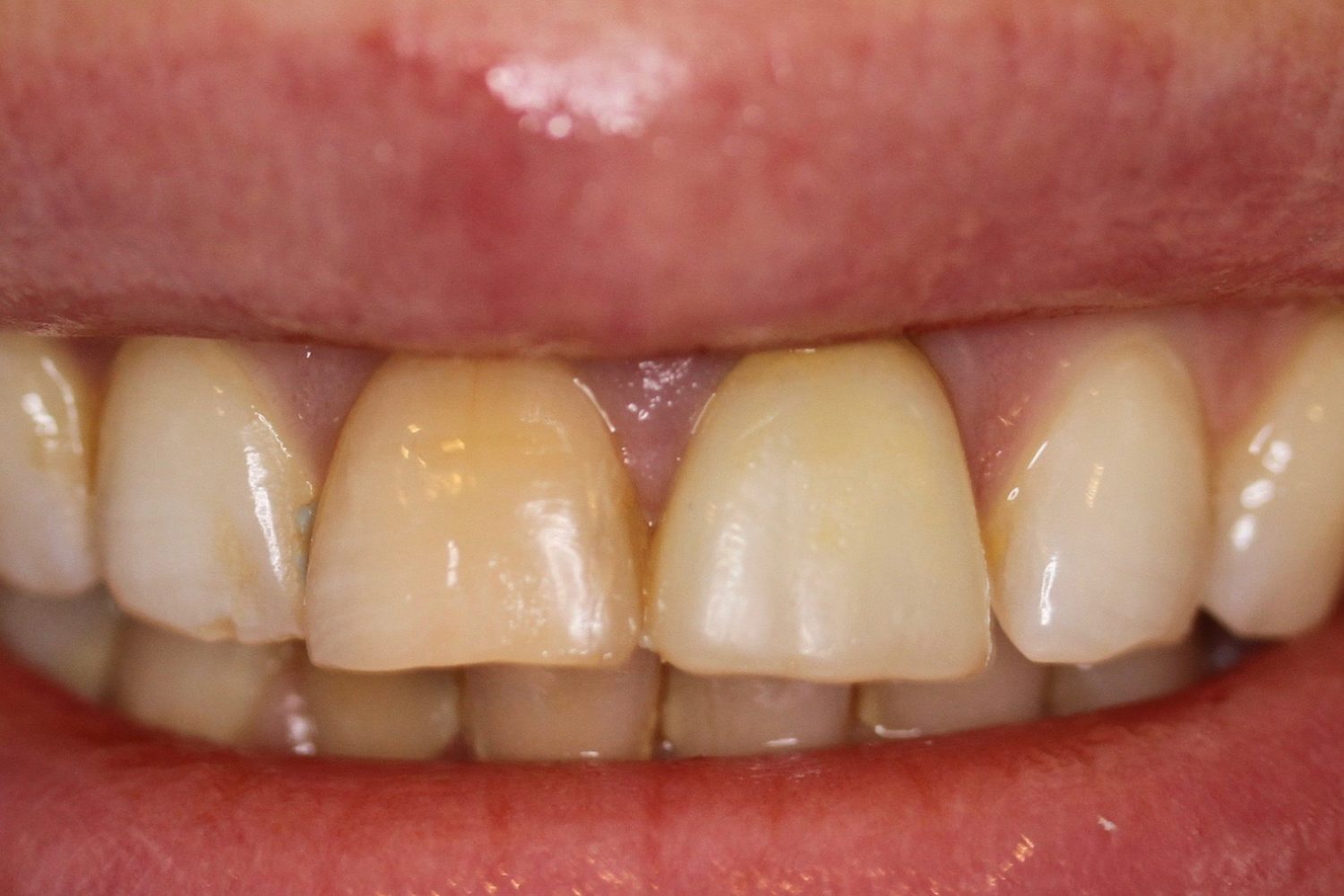 Before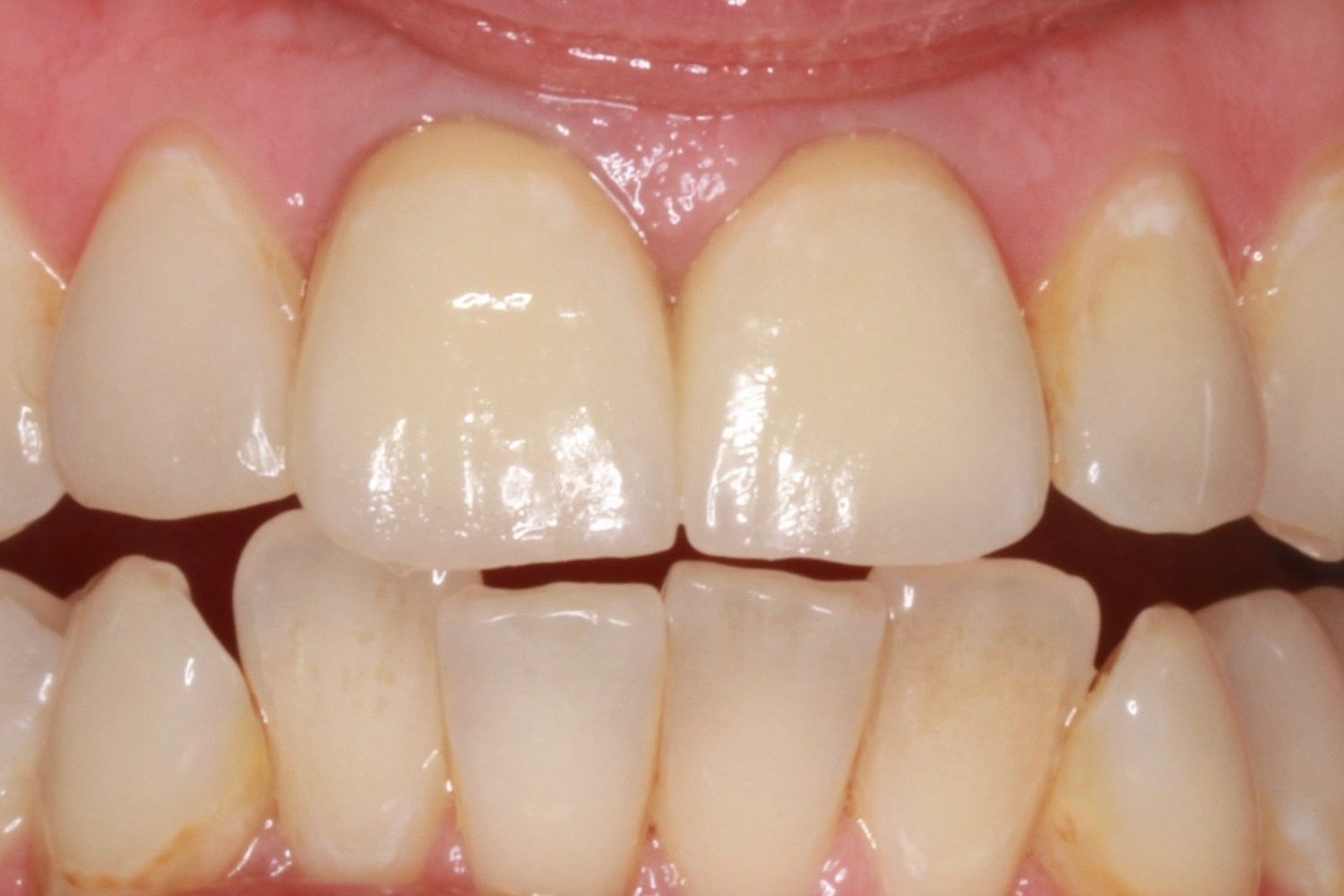 After
Crowns FAQs
On average a crown may last for 10-15 years, though any crown may last less or longer than average. During the time the crown is in your mouth it may chip, stain around the edges, and lose lustre.
Our preferred method of payment is bank transfer, and we accept most debit and credit cards, though not American Express.
Sadly not, we are a private practice only.
Yes there is, though it is on a first come first served basis, with priority given to those with mobility issues. We share two spaces with our neighbour and ask that you use the space considerately.
Generally speaking your treatment may be uncomfortable, but it should not be painful, and we will do our very best to make sure the whole experience is as pleasant as possible. If you are nervous, we do offer various forms of sedation and we are most happy to discuss your needs and options with you.
We are here to look after you, your teeth, gums and general oral health - all the team are very approachable and understanding. It's our job and we love doing it.
A fee is usually charged if there is not enough notice given to cancel or rearrange an appointment or if an appointment is missed.
We follow all the regulations and advice and manufacturer requirements regarding cross infection, decontamination, hygiene and equipment maintenance. We take your safety and ours very seriously.
Ready to go dental?
Get some treatment
More


Specialist treatments